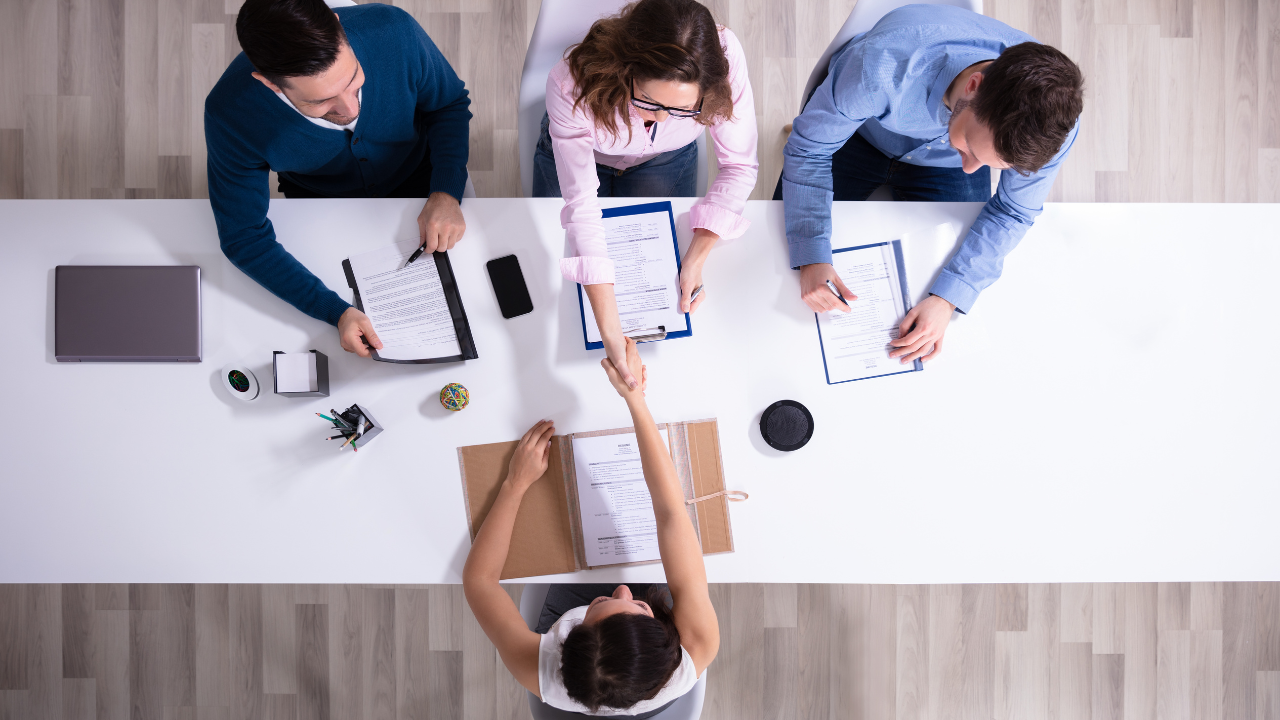 Why hiring on attitude reaps the best rewards
Jun 15, 2023
There's a very good reason so many companies insist on hiring on attitude – this character trait is one of the most important assets any employee can have.
You can have all the skills and acumen required to do any task or project, but if you don't have a positive attitude towards your job, the task at hand, your colleagues and the company you work for, that negativity will have an impact on your productivity.
Positivity embraces everything that a person does. It's not just a mindset: looking at the glass half full instead of half empty; it's waking up every morning with a will to make the very best of the day and whatever it brings. It's embracing people, faults and all, and giving your all to everything that you touch.
Best of all, a positive attitude is catchy – it's hard to be negative if everybody around you has a smile on their face and is enjoying what they are doing.
Why small businesses should hire on attitude
This is why one looks for a positive attitude of an applicant – attitude over aptitude. It's also why small businesses, in particular, need to think about this when hiring staff. Just as a positive approach impacts on everyone around you, so does a negative look at life.
And when you're in an environment with only a few staff members, you want everybody to be on the same page. You want them to have an attitude towards doing their best, together as a team, for the success of the business. This is where attitude not skill is so important.
What is the right attitude?
When you draw up a list of attributes for possible candidates, you need to think about what the right attitude entails. It's not only about being a positive person. It's attitude over skill. The right attitude includes other characteristics, too:
Tolerance
Being able to accept differences of opinion. The ability to let everybody in the team do their best to achieve the same goal. To understand that everybody has different ways of doing things, and to let team members achieve their best in a way that works for them. To appreciate that people in teams with a different culture may well approach life differently, but that as long as they have a common goal when it comes to their work and the task at hand, this is fine.
Respect
Respect follows on from tolerance. It enables one staff member to respect another, despite differences in language, traditions and culture. To give people the respect they deserve, no matter what their job is or what rank they have in the company organogram. To treat people equally and respect their differences, not shy away from them.
The ability to solve problems
People who show willingness to solve problems instead of causing them are assets. Those are the type of people you want in your business. Businesses need resources who are able to tackle problems quickly and effectively so that everything runs as smoothly as possible.
A sense of belonging
Team members need to feel they are part of something. When they have a sense of belonging, they feel secure and work to their best abilities.
Integrity
A person with integrity works to his or her best ability without trying to find shortcuts that would affect others or the company. They care about their own reputations and the company's reputation, and do their utmost to keep a good reputation for their own benefit, and for the business's.
Good work ethic
This involves working honestly and with a positive attitude to achieve a common goal. Those who have a good work ethic work hard and fast and don't try to take advantage of the system.
Why soft skills are so important when you hire
These personal attributes are what we call soft skills. And this is why they are more important than a technical skill set when hiring the right candidates:
If you have two or three possible good candidates for a job, this is when soft skills take over in the hiring process. It's all very well having the ability and skill to do the job, but what type of person are you about to hire? Will your hires fit into the company culture?
Do they understand and appreciate the company brand? These questions key are the most important deciding factors for hires.
Teaching the hard skills
Once you have the right type of person who is a high performer, you can always train them to provide them with the skills and experience to do the job, as long as they have the aptitude they don't need the technical skills. The people you are looking at recruiting will either fit into the company, or not.
You see, every company has its own personality and culture, and it takes a certain type of person to fit into that culture. You already have like-minded people, people whose values align, even if you are a small business. But you need to keep attracting and hiring like-minded employees so that they have the same approach to their work and to each other, a loyalty to the company's ethics, and a wish to succeed.
The benefits of soft skills
These are the type of people who stick around in a company and don't change jobs regularly. They're happy where they are; they are a good fit. They are engaged in what they do and they enjoy coming to work every day.
And this is what gives an organization a competitive advantage. You see, customers can feel this positive, inclusive attitude too. It comes across in the products and/or services that the business offers.
Statistics on staff satisfaction
UK places 12th in the world in terms of employee retention and satisfaction, with 74% of employees feeling very satisfied.
Happy workers are 13% more productive. An energetic and happy employee will contribute significantly more and experience greater job satisfaction.
A happier employee can increase sales by up to 37%.
Up to 69% of employees will reject a job if they know its workers are unhappy.
A happy employee takes 10 times less sick leave than an unhappy employee.
Benefits of a good attitude in recruitment
Staff stays longer: According to a Gallup poll, businesses that hire candidates with a positive attitude have

59% lower staff turnover

. Happy staff stay long term; they don't change jobs as frequently as those who are not satisfied with their working conditions, the company culture and their tasks.
It costs less to hire and train candidates than to employ highly skilled individuals: Hiring managers and candidates with the right attitude who have a lack of skill, and teaching them the skills to do the job is cheaper than hiring a highly skilled candidate.
Those with a good attitude are more flexible: Extremely skilled individuals may become set in their ways, as they know what they're doing. However, staff you train for skill to do a particular job will be more flexible to change.
The disadvantages of hiring on attitude
Business start-ups may find this difficult: When you're first starting out, you need to search for someone with the skill to impart the knowledge to other staff members. So you may initially need to hire based on skill, someone who hopefully has the aptitude to teach others to do the same tasks.
Attitudes change:In an interview situation, a candidate may come across as having the right attitude, when it's actually not the case. First impressions can be wrong. So if you're in the least bit unsure about a candidate, it's best to ask them to do a personality assessment.
It takes time to train new candidates: HR needs to take coaching time into account when it hires a new candidate who still has to learn the ropes. Without enough training, the new hires fail.
What is a bad attitude?
We've spoken in depth the importance of hiring on attitude. But what is the opposite of a good attitude, and how do you spot one during the interview process?
Bad attitude can be defined as someone who lacks emotional intelligence. This type of person doesn't want to learn a new skill.
However, what your business defines as a bad attitude depends on your company culture and branding. Every business has different priorities and these need to be taken into account when deciding what is a good or a bad attitude.
What to look for during recruitment
Make a list of important characteristics
These should include important traits like being positive, open, honest, friendly, etc.
Word of mouth and referrals can help you find like-minded individuals
Your own employees can assist in finding a like-minded candidate, people who have an interest in your company and are similar in character to other employees.
Ask an interview question or questions that clearly show the person's attitude
These questions can assist in filtering out those who aren't the right fit. Their answers will give you a good idea about the person's attitude.
Don't ask the following during an interview: Never ask the candidate to 'tell me about yourself'. And don't ask what a candidate's weaknesses are. Everyone has answers ready for this type of question that don't necessarily reveal anything about them.
Treat attitude as just as important as education and skill shortage. This way, you'll get a key idea of what the person's soft skills are.
Make sure the candidate has an aptitude for the job. They may need training, but does the candidate have the aptitude?
You want to know more about hiring successfully?
Check out the #1 Bestseller Design & Grow HERE and discover the PASS method and get the Free workbook of the STRENGHT METHOD and never hire another employ you wish you don't have to talk to.
We can help maake your business grow
We want to help you discover your business strength. One of our key focuses is to show other small businesses how to improve their sales and marketing strategies. To do this, you need to be able to identify and benchmark your business' current performance.
We have devised a questionnaire to help you improve your performance in Sales and Marketing while optimising your operations.
Take our 3-minute questionnaire and discover how to take your business to the next level.
Watch out for more innovative methods and an online course to make your small business grow!
Don't miss a beat!
New articles, tools, and offers delivered to your inbox.
We hate SPAM. We only use your email to deliver you valuable information.